Marcus J. Borg
March 11, 1942 – January 21, 2015
Marcus Borg... combines the critical eye of the scholar with the mediating sensitivity of faith.
~ Fred Burnham
Marcus Borg describes himself as both a historical Jesus scholar and a Christian.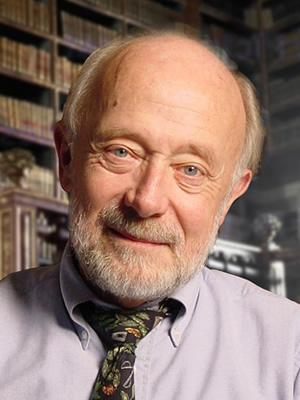 Marcus J. Borg is internationally known in both academic and church circles as a biblical and Jesus scholar. Holder of the Hundere Chair of Religion and Culture in the Philosophy Department at Oregon State University until his retirement in 2007, he then served as Canon Theologian at Trinity Episcopal Cathedral in Portland, Oregon until his death on January 21, 2015.
A pioneer of the Progressive Christian movement, Marcus Borg is remembered by many as one who led them back to Christianity, through his generous and thoughtful teachings on the historical Jesus and how we might live our lives in faithful response. Read more about remembering Marcus Borg on the Patheos web site.
He is the author or co-author of over 20 books, including:
Conflict, Holiness and Politics in the Teachings of Jesus

(1984)

Jesus, A New Vision: Spirit, Culture and the Life of Discipleship

(1987)

Meeting Jesus Again for the First Time: The Historical Jesus and the Heart of Contemporary Faith

(1994), the single best-selling book by a contemporary Jesus scholar

Jesus in Contemporary Scholarship

(1994)

The God We Never Knew: Beyond Dogmatic Religion to a More Contemporary Christian Faith

(1997), named "one of the ten best books in religion in 1997" by

Publishers Weekly

The Lost Gospel Q: The Original Sayings of Jesus

(1996) with Thomas Moore

Jesus and Buddha: The Parallel Sayings

(1997)

Jesus at 2000

(1998)

The Meaning of Jesus: Two Visions

(1999), co-authored with N.T. Wright, a well-known British New Testament scholar from the conservative side of the spectrum, won the "Best General Interest Book of 1999" award from the Association of Theological Booksellers

God at 2000

(2001), co-edited with Ross Mackenzie

Reading the Bible Again for the First Time

(2001), has made

Publishers Weekly

"ten best selling books in religion."

The Heart of Christianity: Rediscovering a Life of Faith

(2003), a best-seller, has been a group study book in hundreds of churches.

Living the Heart of Christianity: A Guide to Putting Your Faith into Action

(2006), with Tim Scorer

Jesus: Uncovering the Life, Teachings and Relevance of a Religious Revolutionary

(2006), a

New York Times

best-seller

The Last Week: A Day-by-Day Account of Jesus's Final Week in Jerusalem

(2006), co-authored with John Dominic Crossan

The First Christmas: What the Gospels Really Teach Us About Jesus' Birth

(2007), co-authored with John Dominic Crossan

The First Paul: Reclaiming the Radical Visionary Behind the Church's Conservative Icon

(2009), co-authored with John Dominic Crossan

Conversations with Scripture: Mark

(2009)

Putting Away Childish Things: A Tale of Modern Faith

(2010), a novel about the great debates in Christianity (and religion) today

Embracing an Adult Faith: Marcus Borg on What it Means to Be Christian

- A 5-Session Study (2010), with Tim Scorer

Speaking Christian: Why Christian Words Have Lost Their Meaning and Power – And How They Can Be Restored

(2011)

Evolution of the Word: The New Testament in the Order the Books Were Written

(2012)

Convictions: How I Learned What Matters Most

(2014), memories, conversations, and convictions and what Dr. Borg says: "what I wish every American Christian knew."
Described by The New York Times as "a leading figure in his generation of Jesus scholars," he has appeared on NBC's "Today Show" and "Dateline," PBS's "Newshour," ABC's "Evening News" and "Prime Time" with Peter Jennings, NPR's "Fresh Air" with Terry Gross, and several National Geographic programs.
A Fellow of the Jesus Seminar, he has been national chair of the Historical Jesus Section of the Society of Biblical Literature and co-chair of its International New Testament Program Committee, and is past president of the Anglican Association of Biblical Scholars and a regular columnist for "Beliefnet." His work has been translated into eleven languages: German, Dutch, Korean, Japanese, Chinese, Indonesian, Italian, Spanish, Portuguese, Russian, and French.
Dr. Borg's doctoral degree is from Oxford University, and he has lectured widely overseas (England, Scotland, Austria, Germany, Belgium, Hungary, Israel and South Africa) and in North America, including the Chautauqua and Smithsonian Institutions.
Comments about Borg's books
Borg is one of the very few New Testament scholars of our age whose learning is so lucid that it takes the Bible back from the specialists and makes it available in all its complexity and splendor to the general reader: nothing short of a blessing, even a miracle! If Marcus Borg did not exist, we would have to invent him for we have no better guide to the recovery of an authentic Christian faith for these difficult times than this articulate and prolific public theologian.
~ Peter Gomes, author of The Good Book
Writing with a simplicity that never becomes simplistic, Borg manages to convey the essence of Christianity in a way that does justice to those who do not share his views and will greatly enrich the understanding of those who do.
~ Frederick Buechner, author of many books, including most recently Seeing with the Eyes of the Heart
A marvelous book, The Heart of Christianity is both challenging and illuminating, and effecting exactly the kind of transformation that Borg describes so lucidly.
~ Karen Armstrong, author of best-sellers A History of God and The Battle for God
Marcus Borg is a key force in the emerging "new paradigm" of Christian faith.
~ Walter Brueggemann, author of more than thirty books on the Hebrew Bible
With great clarity and pastoral genius, Borg offers questioning Christians a way to keep their faith without shutting down the search for truth.
~ Barbara Brown Taylor, priest, professor and preacher and author of many books, including Leaving Church and An Altar in the World
In every generation there is a handful of writers of whom it can be said, "Read everything they write." Marcus Borg is one of these today.
~ Walter Wink, author of Engaging the Powers, Jesus and Non-Violence, and many others
Lenses through which Borg sees Jesus
See the scholarship and experiential perspective which informs Marcus Borg's work.